by Joe Fox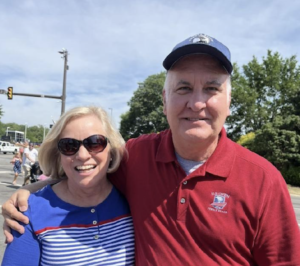 Like many people, my Dublin story has a couple of parts.
Part 1: My wife Susan and I and our four young children (ages 2 to 12 at the time) moved to Dublin from the Cleveland area in 1994. Looking back on the past 28 years, we are convinced we could not have picked a better place to live, work and raise our family.
We were blessed with friendly neighbors, an outstanding school system, and excellent city services. I worked at Ashland Chemical for 25 years and had a dream commute of 10 minutes. Santa Claus brought our family two tickets to the Memorial Tournament every year and we used to go in shifts so that everyone had a chance to watch the pros. We lived close to Dublin Coffman, the North Pool, Avery Park, Sports Ohio, and Perimeter Loop – everything was so convenient and so well taken care of all year round.
Part 2: The kids are all grown now and Susan and I are retired. We have made a conscious, and very easy, decision to stay in Dublin. It is quite simply — a wonderful place to live. Last November, we downsized to a patio home in the Cottages at Ballantrae. Our life has changed very little – we just come at everything from a slightly different direction!
And our new home puts us closer to one of my passions – the Miracle League of Central Ohio at Darree Fields. The Miracle League is a baseball league for more than 300 special needs children and young adults from all over the Columbus area. I have had the privilege and the pleasure of being the league director for the past 11 years.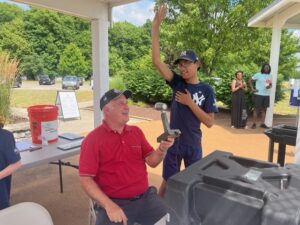 If you have never been to a Miracle League game, I strongly encourage you to do so. It is one of the most positive, most supportive environments you will ever find – everyone cheers for everybody and it brings the entire community together. I have been very fortunate to be part of this wonderful program, and I am very thankful that the City of Dublin helped get it started 17 years ago. Staying in Dublin has given me the chance to continue to be involved with the Miracle League, and each Saturday during baseball season I look forward to the kids' smiles and leading them in the singing of "Take Me Out to the Ballgame."
When people ask Susan and me where we are from, we do not say Columbus. We tell them we are from Dublin, Ohio. We are very proud and very thankful to call Dublin our home.