It's Fall: Safety Awareness!
October 25, 2019 @ 1:00 pm

-

3:00 pm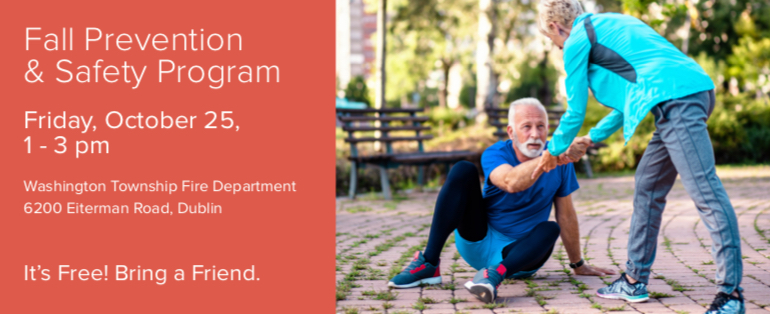 Now is the perfect time to learn more about risk factors that can impact adults 55+ and how you can avoid dangerous falls.
Featured Speaker Rebecca Honaker from the Union County Health Department will share strategies you can employ quickly, easily and economically to reduce your risk of suffering a fall. According to the World Health Organization, falls are the second leading cause of accidental or unintentional injury deaths worldwide. Adults older that 65 year of age suffer the greatest number of fatal falls.
Hands-on Activities to Help You Be Better Prepared
Take advantage of a fall-risk screening on a BioSway ™ machine.
Learn from paramedics about the Vial of Life medical information form when addressing medical emergencies.
Paramedic can check your blood pressure.
Test your skills putting out a virtual fire using a "magic" fire  extinguisher.
Light Refreshments Will Be Available.
It's All Free, and We Hope You Bring a Friend!
To register, call 614.889.5722 ext 810 or email us.
Download our flyer here.